Secure Website
We operate a secure website so that our clients and visitors in general can browse the site and use our online will writing forms with full confidence. To signify this when using an SSL Certificate, so browser's use a padlock symbol in the path window at the top of your screen.
It should look like this: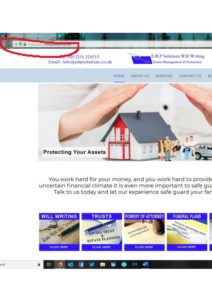 SSL Certificate
So when you use our website to view information about estate planning online you can rest assured of the security of our site. On top of that you are also safe in the knowledge that we've been writing wills since 2008. Your contact information is safe with us and so is the future of your assets and the family you intend it all to go to.
Our wills have been proven many times and have been upheld by the courts and many grants of probate have been issued following production of one of our wills.
We look forward to helping you when contact us to arrange a free home visit to discuss your requirements.
Contact us here :
Or 01325 324515
Email: info@empsolutions.co.uk